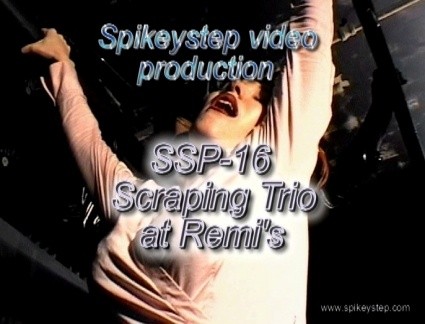 SSP-16 "SCRAPING TRIO AT REMI'S"
A sophisticated 45 minutes of trampling feet in elegant H. Heels body scraping shoes! Remi and friends have fun trampling on a couple of "Rug" guys just before the Tea Time.

Mistresses Remi, Lividia and Kristall play an elegant and nasty trampling, shoes and feet worship in Remi's NYC studio

Head Mistress Remi walks, jumps and stands in stocking feet on slave bodies and faces while Mistress Kristall jumps on a rug stomac in elegant staked heels, Mistress Lividia screws her super high, metal tipped stilettoes into "a piece of naked flesh"

This is a video in "Crescendo" for feet and shoes trampling lovers. Camera stays focused on sexy ladies feet almost the whole video length performing Exiting closeups on trampling and H. Heels scraping sequences.

Mistress Kristall will deliver the last punishment using the cutting edge of her heels for a very painful bloody back and chest scraping; while Mistress Remi keeps him quite standing on his face.

Available

Media

Computer Players

Home players &

TV systems

Roll

Language

DVD

Any DVD PC Player

Any Home Player with

NTSC / USA Capabilities

45'

English
<Back to Video List> <SSP Home Page>
spikeystep,spikeysteps,spikey,slave,sexy,slaves,Stockings,girl,legs,sex,woman,women,girls,hot,testicoles,female,femaledomination,whipp,whipping,belting,
trampling,hard,brutal,kick,kicks,full,force,rupture,gelding,shoe,shoes,boot,boots,pointed,pointedtoe,metal,metaltip,spikes,spikeheels,highheels,heels,cbt,nail,
groin,groinkick,balls,testicoles,ballbusting,ballkicking,ballsqueezing,kneeing,squeeze,squeezing,handsqueezing,groinkicks,stomping,dildo,dildoing,CBT,cbt,
groinkick,balls,testicoles,ballbusting,ballkicking,ballsqueezing,kneeing,squeeze,squeezing,handsqueezing,groinkicks,ballbusting,ballkicking,ballsqueezing,nails,
nipple,nipples,ballbust,femdom,sex,torture,smoke,smoking,cigarette,burning,leather,lick,belt,slap,slapping,faceslapping,trampledon,smashing,smashed,brutality,
backhand,groinstomping,groinbusting,barefeet,barefoot,trampled,kicked,wipped,slapped,platform,licking,kicking,belting,burning,suffocation,extreme,torture,brutality,
nurse,nurses,stiletto,stilettoes,kicks,groinkick,ballbusting,ballkicking,ballsqueezing,kneeing,squeeze,squeezing,handsqueezing,groinkicks,ballbust,
spikeystep,spikeysteps,spikey,slave,sexy,slaves,Stockings,girl,legs,sex,woman,women,girls,hot,testicoles,female,femaledomination,whipp,whipping,belting,
trampling,hard,brutal,kick,kicks,full,force,rupture,gelding,shoe,shoes,boot,boots,pointed,pointedtoe,metal,metaltip,spikes,spikeheels,highheels,heels,cbt,nail,
groin,groinkick,balls,testicoles,ballbusting,ballkicking,ballsqueezing,kneeing,squeeze,squeezing,handsqueezing,groinkicks,stomping,dildo,dildoing,CBT,cbt,
groinkick,balls,testicoles,ballbusting,ballkicking,ballsqueezing,kneeing,squeeze,squeezing,handsqueezing,groinkicks,ballbusting,ballkicking,ballsqueezing,nails,
nipple,nipples,ballbust,femdom,sex,torture,smoke,smoking,cigarette,burning,leather,lick,belt,slap,slapping,faceslapping,trampledon,smashing,smashed,brutality,
backhand,groinstomping,groinbusting,barefeet,barefoot,trampled,kicked,wipped,slapped,platform,licking,kicking,belting,burning,suffocation,extreme,torture,
brutality,nurse,nurses,stiletto,stilettoes,kicks,groinkick,ballbusting,ballkicking,ballsqueezing,kneeing,squeeze,squeezing,handsqueezing,groinkicks,ballbust,
spikeystep,spikeysteps,spikey,slave,sexy,slaves,Stockings,girl,legs,sex,woman,women,girls,hot,testicoles,female,femaledomination,whipp,whipping,belting,
trampling,hard,brutal,kick,kicks,full,force,rupture,gelding,shoe,shoes,boot,boots,pointed,pointedtoe,metal,metaltip,spikes,spikeheels,highheels,heels,cbt,nail,
groin,groinkick,balls,testicoles,ballbusting,ballkicking,ballsqueezing,kneeing,squeeze,squeezing,handsqueezing,groinkicks,stomping,dildo,dildoing,CBT,cbt,
groinkick,balls,testicoles,ballbusting,ballkicking,ballsqueezing,kneeing,squeeze,squeezing,handsqueezing,groinkicks,ballbusting,ballkicking,ballsqueezing,nails,
spikeystep,spikeysteps,spikey,slave,sexy,slaves,Stockings,girl,legs,sex,woman,women,girls,hot,testicoles,female,femaledomination,whipp,whipping,belting,
trampling,hard,brutal,kick,kicks,full,force,rupture,gelding,shoe,shoes,boot,boots,pointed,pointedtoe,metal,metaltip,spikes,spikeheels,highheels,heels,cbt,nail,
groin,groinkick,balls,testicoles,ballbusting,ballkicking,ballsqueezing,kneeing,squeeze,squeezing,handsqueezing,groinkicks,stomping,dildo,dildoing,CBT,cbt,
groinkick,balls,testicoles,ballbusting,ballkicking,ballsqueezing,kneeing,squeeze,squeezing,handsqueezing,groinkicks,ballbusting,ballkicking,ballsqueezing,nails,