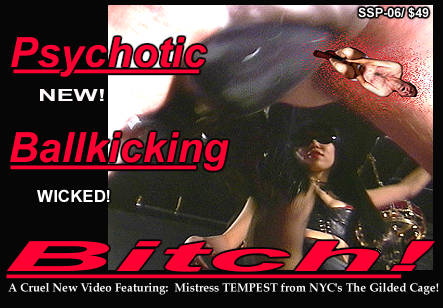 SSP-06: PSYCHOTIC BALLKICKING BITCH!
Full force Testicoles Kicking series
MISTRESS TEMPEST (of NYC's reknown The Gilded Cage) is a mischievous Asian goddess who strives for permanent damage when ballkicking her male slave, ANDREA THE GREAT. Testing out her new groin stomping boots, she develops a female craving for outrageous boy toy punishment. With the male's wrists bound to the ceiling and wide open access between his legs, Mistress Tempest warms up the tips of her shoes rapidly with non-stop, full force kicks, repeated like a machine gun shooting into his balls. His groin is kicked in ALL directions and all angles, swinging back and forth like butcher's meat. After this warm up, she determines his worth by offering her boots to be licked and swallowed clean with his tongue. Not exactly her idea of love-making, she offers her complete weight and steep heels on his body like needles to a pin cushion. Slowly, she moves to his groin to pop his nuts. PSYCHOTIC BALLKICKING BITCH has over 100 plus kicks, trampling, foot worship, nylon feet ballbusting, and a BRUTAL BONUS SCENE with shoe whipping/slapping across the face and body countless times! Delicate yet cruel, Mistress Tempest flashes a warm smile only when she gets the best beating out of her man. Not just a fantasy!
Available

Media

Computer Players

Home players &

TV systems

Roll

Language

VHS TAPE

----------------

PAL EU & NTSC USA

40'

English
<Back to Video List> <SSP Home Page>
spikeystep,spikeysteps,spikey,slave,sexy,slaves,Stockings,girl,legs,sex,woman,women,girls,hot,testicoles,female,femaledomination,whipp,whipping,belting,
trampling,hard,brutal,kick,kicks,full,force,rupture,gelding,shoe,shoes,boot,boots,pointed,pointedtoe,metal,metaltip,spikes,spikeheels,highheels,heels,cbt,nail,
groin,groinkick,balls,testicoles,ballbusting,ballkicking,ballsqueezing,kneeing,squeeze,squeezing,handsqueezing,groinkicks,stomping,dildo,dildoing,CBT,cbt,
groinkick,balls,testicoles,ballbusting,ballkicking,ballsqueezing,kneeing,squeeze,squeezing,handsqueezing,groinkicks,ballbusting,ballkicking,ballsqueezing,nails,
nipple,nipples,ballbust,femdom,sex,torture,smoke,smoking,cigarette,burning,leather,lick,belt,slap,slapping,faceslapping,trampledon,smashing,smashed,brutality,
backhand,groinstomping,groinbusting,barefeet,barefoot,trampled,kicked,wipped,slapped,platform,licking,kicking,belting,burning,suffocation,extreme,torture,brutality,
nurse,nurses,stiletto,stilettoes,kicks,groinkick,ballbusting,ballkicking,ballsqueezing,kneeing,squeeze,squeezing,handsqueezing,groinkicks,ballbust,
spikeystep,spikeysteps,spikey,slave,sexy,slaves,Stockings,girl,legs,sex,woman,women,girls,hot,testicoles,female,femaledomination,whipp,whipping,belting,
trampling,hard,brutal,kick,kicks,full,force,rupture,gelding,shoe,shoes,boot,boots,pointed,pointedtoe,metal,metaltip,spikes,spikeheels,highheels,heels,cbt,nail,
groin,groinkick,balls,testicoles,ballbusting,ballkicking,ballsqueezing,kneeing,squeeze,squeezing,handsqueezing,groinkicks,stomping,dildo,dildoing,CBT,cbt,
groinkick,balls,testicoles,ballbusting,ballkicking,ballsqueezing,kneeing,squeeze,squeezing,handsqueezing,groinkicks,ballbusting,ballkicking,ballsqueezing,nails,
nipple,nipples,ballbust,femdom,sex,torture,smoke,smoking,cigarette,burning,leather,lick,belt,slap,slapping,faceslapping,trampledon,smashing,smashed,brutality,
backhand,groinstomping,groinbusting,barefeet,barefoot,trampled,kicked,wipped,slapped,platform,licking,kicking,belting,burning,suffocation,extreme,torture,
brutality,nurse,nurses,stiletto,stilettoes,kicks,groinkick,ballbusting,ballkicking,ballsqueezing,kneeing,squeeze,squeezing,handsqueezing,groinkicks,ballbust,
spikeystep,spikeysteps,spikey,slave,sexy,slaves,Stockings,girl,legs,sex,woman,women,girls,hot,testicoles,female,femaledomination,whipp,whipping,belting,
trampling,hard,brutal,kick,kicks,full,force,rupture,gelding,shoe,shoes,boot,boots,pointed,pointedtoe,metal,metaltip,spikes,spikeheels,highheels,heels,cbt,nail,
groin,groinkick,balls,testicoles,ballbusting,ballkicking,ballsqueezing,kneeing,squeeze,squeezing,handsqueezing,groinkicks,stomping,dildo,dildoing,CBT,cbt,
groinkick,balls,testicoles,ballbusting,ballkicking,ballsqueezing,kneeing,squeeze,squeezing,handsqueezing,groinkicks,ballbusting,ballkicking,ballsqueezing,nails,
spikeystep,spikeysteps,spikey,slave,sexy,slaves,Stockings,girl,legs,sex,woman,women,girls,hot,testicoles,female,femaledomination,whipp,whipping,belting,
trampling,hard,brutal,kick,kicks,full,force,rupture,gelding,shoe,shoes,boot,boots,pointed,pointedtoe,metal,metaltip,spikes,spikeheels,highheels,heels,cbt,nail,
groin,groinkick,balls,testicoles,ballbusting,ballkicking,ballsqueezing,kneeing,squeeze,squeezing,handsqueezing,groinkicks,stomping,dildo,dildoing,CBT,cbt,
groinkick,balls,testicoles,ballbusting,ballkicking,ballsqueezing,kneeing,squeeze,squeezing,handsqueezing,groinkicks,ballbusting,ballkicking,ballsqueezing,nails,