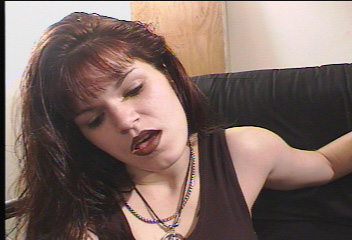 SSP-01: COCK CRUSHING DUET

Join Sweet Angela and her very attractive counterpart, Mistress Tara, as they simultaneously punish one obsessive male foot fetishist Andrea. The two feisty women are fed up with his fantasies about sucking on their heels or wishing to be deserving of being punished by two women at one time. Sweet Angela and Mistress Tara begin to teach Andrea how to overcome his fetish by torturing him with the worst punishment of his life! The sexy duet slap his face with their feet, dig their stilettoes in his butt, screw his anus with a heel, whip, spank, beat, kick, force him worship their feet and trample

his body. They finally finish him off by scratching his body with a pair of shoes laced with sharp spikes on the soles! Sweet Angela takes a long walk on Andrea's body while poking holes into his supple buns with her spike soles. She pounces on his back while Mistress Tara forces him to sniff and bury his face in her shoe! The two vixens laugh off their punishment as Andrea lays lifeless, recovering from his punishment - wish come true!


Available

Media

Computer Players

Home players &

TV systems

Roll

Language

VHS TAPE

----------------

PAL EU & NTSC USA

50'

English

Order Now
<Back to Video List> <SSP Home Page>
spikey,slave,sexy,slaves,femdom,sex,torture,rupture,girl,leg,spikeystep,spikeysteps,sex,ballbusting,ballkicking,faceslapping,
shoes,femaledomination,whipping,belting,trampling,hard,brutal,spikeheels,highheels,heels,woman,women,girl,testicole,
testicoles,ball,balls,pointed,toe,slapping,kick,kicks,fetish,lick,licking,boot,metal,stiletto,stilettoes,needle,spikey,brutality,female,
extreme,brutal,groin,groinkick,groinkicks,belting,leather,burning,trampled,kicked,wipped,slapped,ballbusting,ballkicking,
faceslapping,shoes,pointed,toe,femaledomination,wipping,belting,trampling,hard,brutal,spikeheels,highheels,heels,woman,women,girl,
testicole,testicoles,ball,balls,pointed,toe,slapping,kick,kicks,fetish,lick,licking,boot,metal,stiletto,stilettoes,needle,spikey,
brutality,female,extreme,brutal,groin,groinkick,groinkicks,belting,leather,burning,trampled,kicked,wipped,slapped,
ballbusting,ballkicking,faceslapping,shoes,femaledomination,wipping,belting,trampling,hard,brutal,spikeheels,highheels,heels,
woman,women,girl,testicole,testicoles,pointed,toe,ball,balls,slapping,kick,kicks,fetish,lick,sexy,slaves,femdom,sex,torture,rupture,girl,
leg,licking,boot,metal,stiletto,stilettoes,needle,spikey,brutality,female,extreme,brutal,groin,groinkick,groinkicks,belting,
leather,burning,trampled,pointed,toekicked,wipped,pointed,toe,slapped,face,facekicking,boots,stilettoes,steel,squeeze,squeezing,fullforce,
ballbusting,ballkicking,faceslapping,shoes,femaledomination,wipping,belting,trampling,hard,brutal,spikeheels,highheels,heels,
woman,women,girl,testicole,testicoles,ball,balls,slapping,kick,kicks,fetish,lick,licking,boot,metal,stiletto,stilettoes,
needle,spikey,brutality,female,extreme,brutal,groin,groinkick,groinkicks,belting,leather,burning,trampled,kicked,wipped,
slapped,ballbusting,ballkicking,pointed,toefaceslapping,shoes,femaledomination,wipping,belting,trampling,hard,brutal,spikeheels,
highheels,heels,woman,women,girl,testicole,testicoles,ball,balls,slapping,kick,kicks,fetish,lick,licking,boot,metal,stiletto,
stilettoes,needle,spikey,brutality,pointed,toe,female,extreme,brutal,groin,groinkick,groinkicks,belting,leather,burning,trampled,kicked,
sexy,slaves,femdom,sex,torture,rupture,girl,leg,wipped,slapped,ballbusting,ballkicking,faceslapping,shoes,femaledomination,
wipping,belting,trampling,hard,brutal,spikeheels,highheels,heels,woman,women,girl,testicole,testicoles,ball,balls,slapping,kick,kicks,
licking,boot,metal,stiletto,stilettoes,needle,spikey,brutality,female,extreme,brutal,groin,groinkick,groinkicks,belting,
leather,burning,trampled,kicked,wipped,slapped,ballbusting,ballkicking,faceslapping,shoes,femaledomination,wipping,belting,
trampling,hard,brutal,spikeheels,highheels,heels,woman,women,girl,testicole,testicoles,ball,balls,slapping,kick,kicks,fetish,lick,licking,boot
kicked,wipped,slapped,ballbusting,ballkicking,faceslapping,shoes,femaledomination,wipping,belting,trampling,hard,brutal,
spikeheels,highheels,heels,woman,women,girl,testicole,testicoles,ball,balls,slapping,kick,kicks,fetish,lick,licking,boot,
metal,stiletto,stilettoes,needle,spikey,brutality,pointed,toe,female,extreme,brutal,groin,groinkick,groinkicks,belting,leather,burning,
trampled,kicked,wipped,slapped,face,facekicking,boots,stilettoes,steel,squeeze,squeezing,fullforce,brutality,ballbusting,
ballkicking,faceslapping,shoes,femaledomination,pointed,toe,wipping,belting,sexy,slaves,femdom,sex,torture,rupture,girl,leg,trampling,
hard,brutal,spikeheels,highheels,heels,woman,women,girl,testicole,testicoles,ball,balls,slapping,kick,kicks,fetish,lick,
licking,boot,metal,stiletto,stilettoes,needle,spikey,brutality,female,extreme,brutal,groin,groinkick,groinkicks,belting,
leather,burning,trampled,kicked,wipped,slapped,pointed,toe,ballbusting,ballkicking,faceslapping,shoes,femaledomination,wipping,belting,
trampling,hard,brutal,spikeheels,highheels,heels,woman,women,girl,testicole,testicoles,ball,balls,slapping,kick,kicks,fetish,
lick,licking,boot,metal,stiletto,stilettoes,needle,spikey,brutality,female,extreme,brutal,groin,groinkick,groinkicks,belting,
leather,burning,trampled,kicked,wipped,slapped,pointed,toe,ballbusting,ballkicking,faceslapping,shoes,femaledomination,wipping,belting,
trampling,hard,brutal,spikeheels,highheels,heels,woman,women,girl,testicole,testicoles,ball,balls,slapping,kick,kicks,fetish,
lick,licking,boot,metal,stiletto,stilettoes,pointed,toe,needle,spikey,brutality,female,extreme,brutal,groin,groinkick,sexy,slaves,femdom,
sex,torture,rupture,girl,leg,groinkicks,belting,pointed,toe,leather,burning,trampled,kicked,wipped,slapped,face,facekicking,boots,
stilettoes,steel,squeeze,squeezing,fullforce,brutality